Things to do in Sheffield
Stressbusters Programme
Exam Season is upon us and we know how stressful it can be to juggle deadlines and revision whilst still looking after your wellbeing.
Residence Life and the Student Union GIAG team have put together a programme of events to help you through this stressful time. We've got arts and crafts, fitness classes, skills to learn and massage sessions to get involved with.
All of these activities are free to join so sign up today! Just click the link on the event title.
Stressbusters runs from Monday 17th January to 4th February 2022.
Competition Time- Wellness Week Challenge
Join our Wellness Week Challenge to prompt yourself to take small and attainable steps every day (Monday to Friday) for a week towards better mental health.
In addition, to help you get through this exam and assessment period, free Care Packages will be available for you to collect from one of three locations.

Week 2
Monday 24th Jan
HIIT Class 6.00-6.45pm (The Edge, High Tor 2)
Yoga Class 7.00-7.45pm (The Edge, High Tor 2)
Tuesday 25th Jan
Mindful Walks 12.00-1.00pm (Meet at SU Reception)
Learn Embroidery 7.00-8.00pm (The Edge Hub)
Wednesday 26th Jan
Wellbeing Officer 'Exam Revision Techniques' 10.00-11.00am (Online)
Pomodoro Revision Sessions 6.00-9.00pm (Online)
Zumba 6.30-7.15pm (The Edge, High Tor 2)
Dance Fitness 7.30-8.15pm (The Edge, High Tor 2)
Thursday 27th Jan
Mindful Walks 12.00-1.00pm (Meet at SU Reception)
Drop in Massage Session 6.00-8.00pm (The Edge Hub)
Drumming Workshop 7.30-8.15pm (The Ridge, Ranmoor)
Friday 28th Jan
Colouring and Chat Break 12.00-1.00pm (Online)
Aromatherapy 6.00-8.00pm (The Edge Hub)
Saturday 29th Jan
Pomodoro Revision Sessions 6.00-9.00pm (Online)
Week 3
Monday 31st Jan
HIIT Class 6.00-6.45pm (The Edge, High Tor 2)
Yoga Class 7.00-7.45pm (The Edge, High Tor 2)
Tuesday 1st Feb
Mindful Walks 12.00-1.00pm (Meet at SU Reception)
Study Break Board Games 1.00-2.00pm (The Activities Zone, SU)
Wednesday 2nd Feb
Zumba 6.30-7.15pm (The Edge, High Tor 2)
Dance Fitness 7.30-8.15pm (The Edge, High Tor 2)
Study Break Board Games 1.00-2.00pm (The Activities Zone, SU)
Thursday 3rd Feb

Mindful Walks 12.00-1.00pm (Meet at SU Reception)
Aromatherapy 6.00-8.00pm (The Edge Hub)
Drumming Workshop 7.30-8.15pm (The Ridge, Ranmoor)
Friday 4th Feb
Colouring and Chat Break 12.00-1.00pm (Online)
Drop in Massage Session 6.00-8.00pm (The Edge Hub)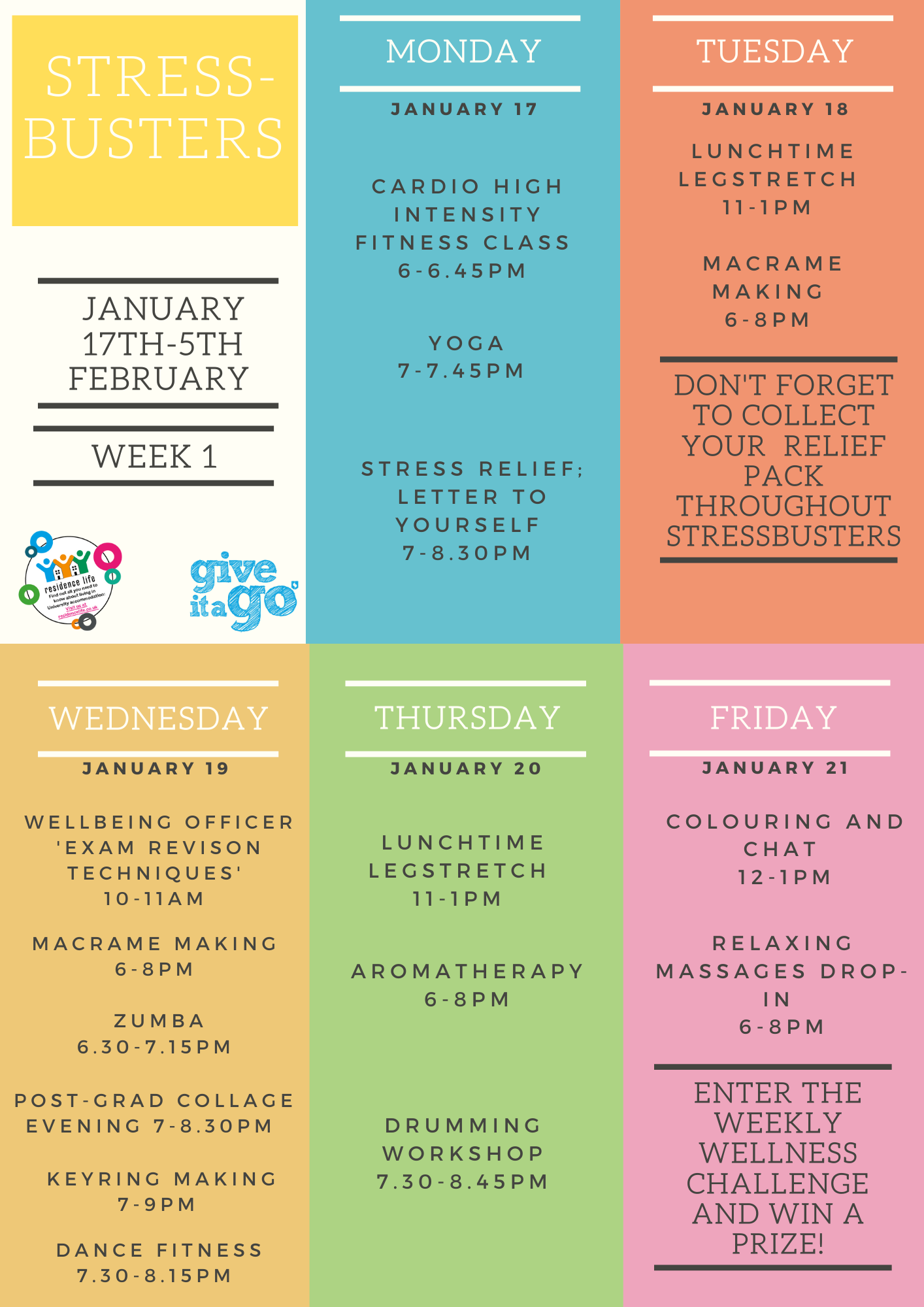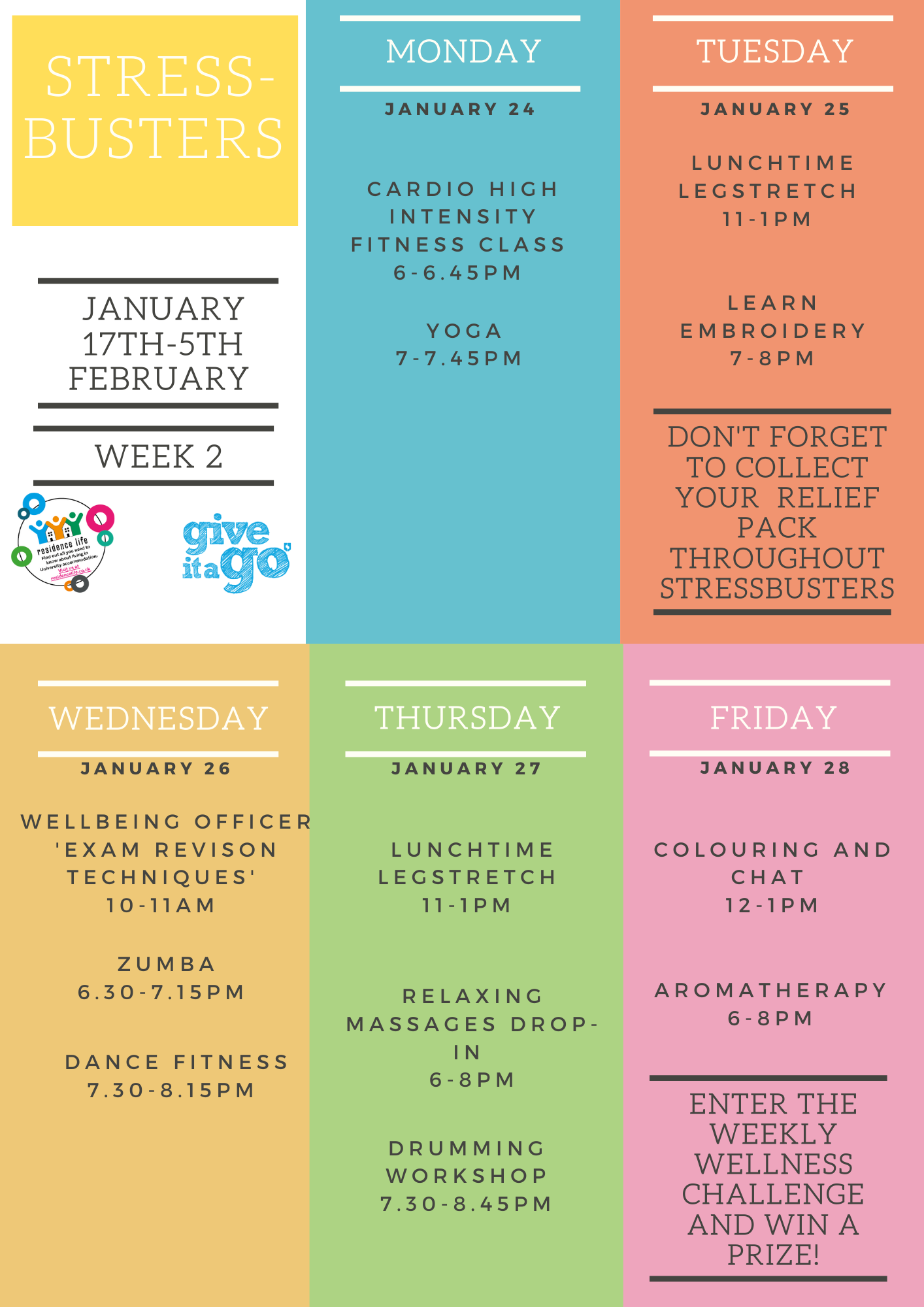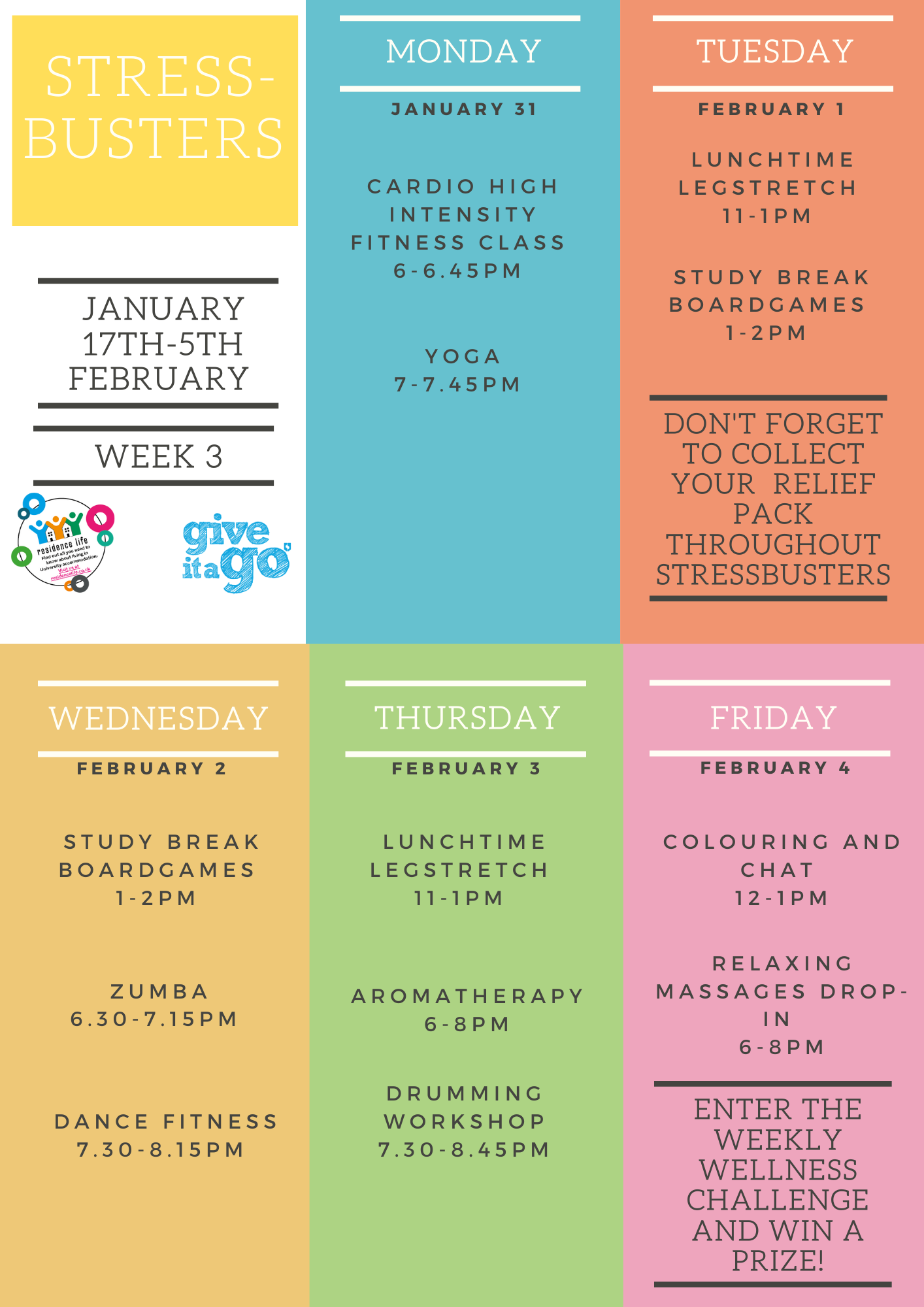 Topics