Sustainability
New: Gub Gub app rewards @ Coffee Revolution
There are new rewards to be gained on the Gub Gub app to be used at Coffee Revolution! As of the 8th of November, Gub Gub app users will be able to win either a free coffee, tea or traybake from Coffee Revolution by successfully completing a three-question quiz on Gub Gub. It's as simple as that!

What's Gub Gub!?
This term, we want to see how much food we can prevent from going into the bin as part of a research project led by the Geography Department. Gub Gub is a student food inventory management app aiming to help you develop healthy and sustainable food management practices and we hope to get as many students involved and reduce food waste on campus. The more you use the app, the more points you gain for rewards to be redeemed at Coffee Revolution at the Students' Union. Even more prizes and rewards will be launched at more Students' Union venues soon!

The app will help you to develop your cooking skills, save money and reduce food waste! You can also create shopping lists, scan receipts, share recipes with other students, whilst building up your points for free coffee, tea or tray bake at Coffee Revolution.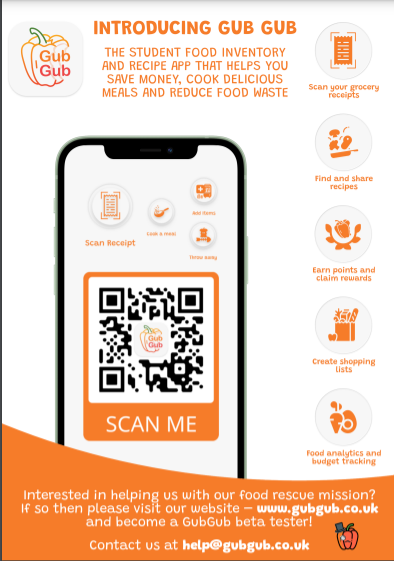 Topics