Sustainability
GubGub - food management app
There is a new app on campus!
Gub Gub, named after Dr. Dolittle's food-loving pet pig, is a student food inventory management app aiming to help you develop healthy and sustainable food management practices. The project is being led by the Geography Department and we hope to get as many students on board to see how much food we can prevent from going in the bin throughout this term.
The app will help you to develop your cooking skills, save money and reduce food waste! You can also create shopping lists, scan receipts, share recipes with other students and even gain rewards and prizes for getting involved!
There will be points available for completing different actions and leaderboards to see how you stack up against others on campus, whether you're a Master Chef, love a quiz or just want to better track your shopping and food use, there is something for everyone.
To download the app, simply go to www.gubgub.co.uk or scan the QR code attached to the image below. For more information, you can also reach out to a.w.fletcher@sheffield.ac.uk.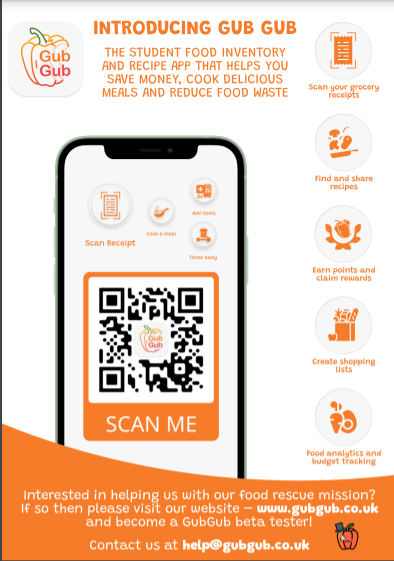 Topics